Face Contour
Face Contour
https://instytutadamowicz.pl/wp-content/themes/corpus/images/empty/thumbnail.jpg
150
150
Instytut Adamowicz
Instytut Adamowicz
https://secure.gravatar.com/avatar/51588449604e42d28d7f07213c9a73ab?s=96&d=mm&r=g
What is 'Face Contour'?
Face contour is a procedure that uses monopolar medical radio waves (RF) of different frequencies. It consists of two stages performed with the same needleless head, but with variable parameters.
How does it work?
The treatment consists of 2 stages:
Stage I: 'Facial yoga'. At this stage we focus on the broad neck muscle. Monopolar radio wave leads to muscle microshrinkages, resulting in improved skin tension in the lower part of the face and neck. During this process the patient feels a slight tingling. The first stage of the procedure lasts about 15 minutes.
Stage II: In the second stage, the skin is potently heated, which results in the reconstruction of collagen fibers. This is accompanied by strong warmth, on the verge of skin burning, although the treatment is still pleasant. This stage covers the whole face and neck. The second stage of the treatment lasts about 30 minutes.The effect is visible immediately after the treatment. In addition, the skin is still rebuilt for a few months after the treatment. The treatment is pleasant.
Recommended number of treatments: 4 – 6 treatments, once every 2-3 weeks.
Duration of the procedure: 60 minutes.
Indications:
weakening of the skin's elasticity
grey, tired skin without radiance
wrinkles
drooping facial oval
Przeciwwskazania:
susceptibility to keloids
chronic diseases
metal implants in the body
circulatory insufficiency
heart disease
defibrillation devices in the body, pacemaker
pregnancy, breastfeeding
cancer, autoimmune diseases, epilepsy
Price: 850 pln – 1090 pln/ 1 treatment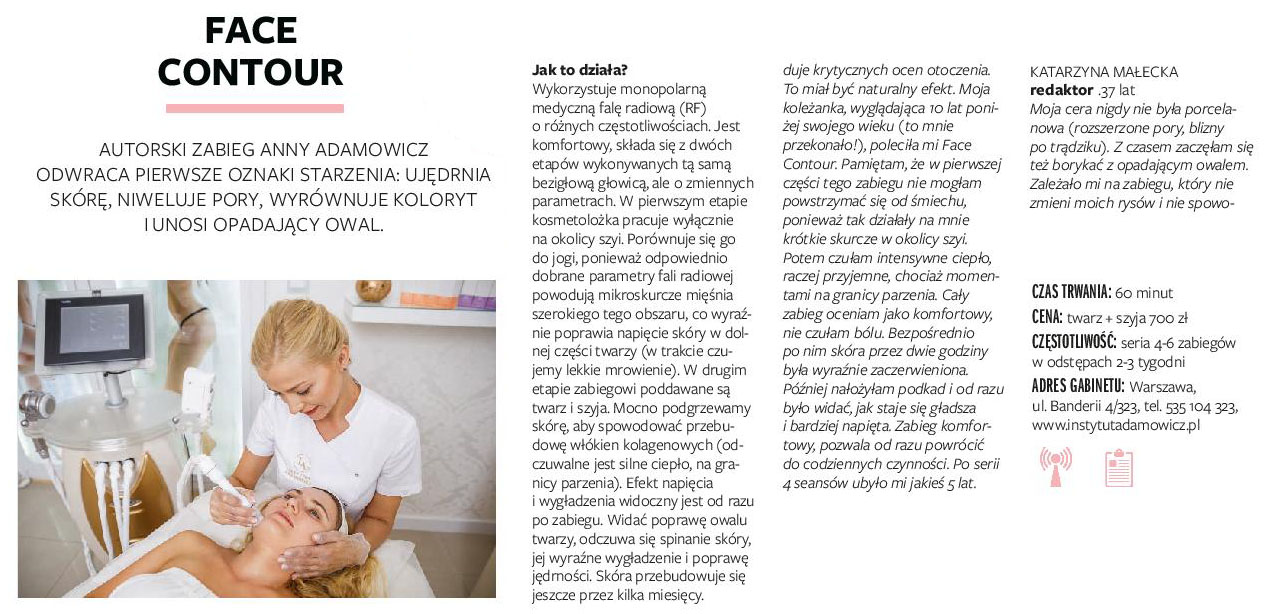 Spis treści
Spis treści