LASER ATTACK DUO
LASER ATTACK DUO
https://instytutadamowicz.pl/wp-content/themes/corpus/images/empty/thumbnail.jpg
150
150
Instytut Adamowicz
Instytut Adamowicz
https://secure.gravatar.com/avatar/51588449604e42d28d7f07213c9a73ab?s=96&d=mm&r=g
What is the Laser Attack Duo?
This rejuvenating treatment is dedicated to the skin, which apart from wrinkles and loss of firmness is also afflicted with accompanying problems, such as dilated vessels, facial erythema , acne rosacea, hyperpigmentation or excessive seborrhea. The treatment solves specific problems while rejuvenating the skin.
The Laser Attack Duo is based on selective photothermolysis.
It uses 2 highly-sophisticated technologies – CPL (CalibratedPulsed Light) and neodymium-YAG laser (Nd-Yag). It is a treatment for those people who, apart from the visible and noticeable effect of rejuvenation, need to act decisevly and effectively on, usually chronic, accompanying problems.
How does it work?
CPL treatment is performed on the face, neck and cleavage (the entire area), while laser impulses are emitted precisely in those places that require special care, such as crow's feet, skin around the eyes, wrinkles around the mouth, marionette lines, or the jaw line in case of falling oval.
The combination of both technologies in one treatment results in: reduced pores (CPL), brightening of discolouration (CPL), but above all, it intensively and effectively stimulates fibroblasts to rebuild collagen fibres (CPL epidermally + Nd-Yag dermis).
The procedure is painless, the patient feels only brief thermal impulses.
Duration of the procedure: 40-45 minutes
The effect is noticeable immediately after the treatment, the best result is visible after about 3 weeks. However, if we perform a series of treatments, the final/full effect can be seen 2 months after the end of the therapy.
Recommended number of treatments: from 3 to 6 treatments, every 3-5 weeks.
Indications:
widened sebaceous gland estuaries
grey, tired skin – photoageing
dilated blood vessels
erythema
discolourations
falling oval
wrinkles
Contraindications:
viral and bacterial infections
taking immunosuppressive medications
avoid tanning 3 weeks before and 3 weeks after the treatment
Do not use the self-tanner during therapy
exfoliating treatments performed earlier than 4 weeks before the procedure
retinoid therapy (laser treatment is possible after 6 months from the end of retinoid treatment)
steroid therapies
cancer
epilepsy
pregnancy and breastfeeding period
photosensitive drugs, e.g. antibiotics, antidepressants
certain painkillers e.g.: aspirin, ibuprofen
photosensitive herbs e.g. St. John's wort, camomile, marigold, senna, buckthorn
Price: 600 pln – 1890 pln/1 treatment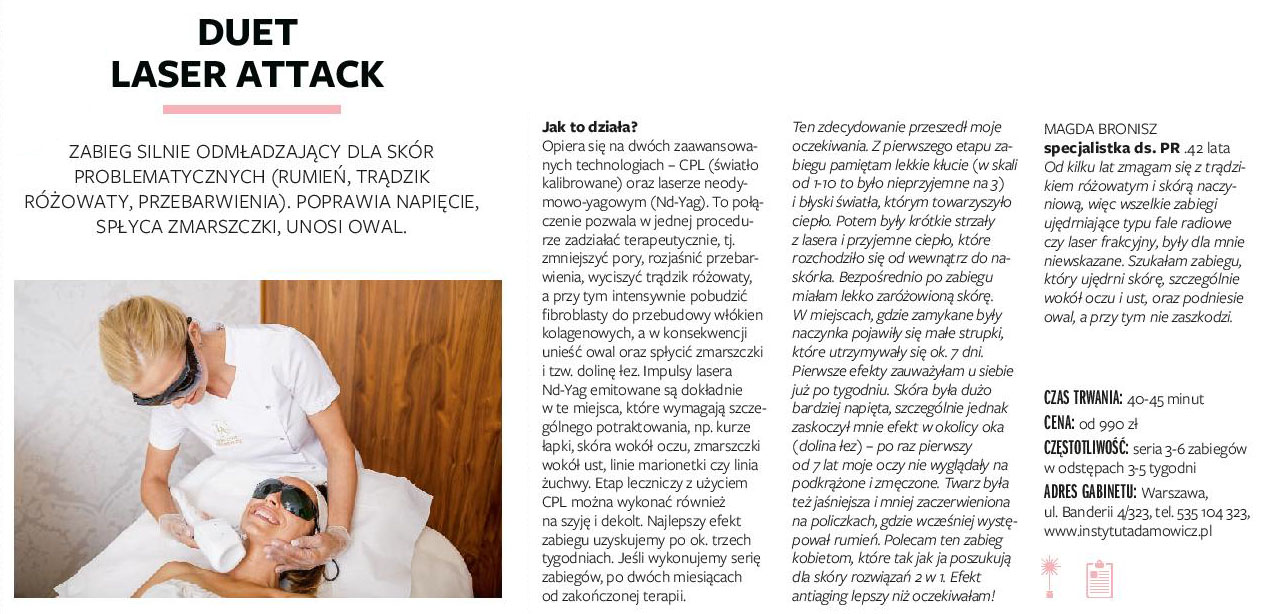 Spis treści
Spis treści